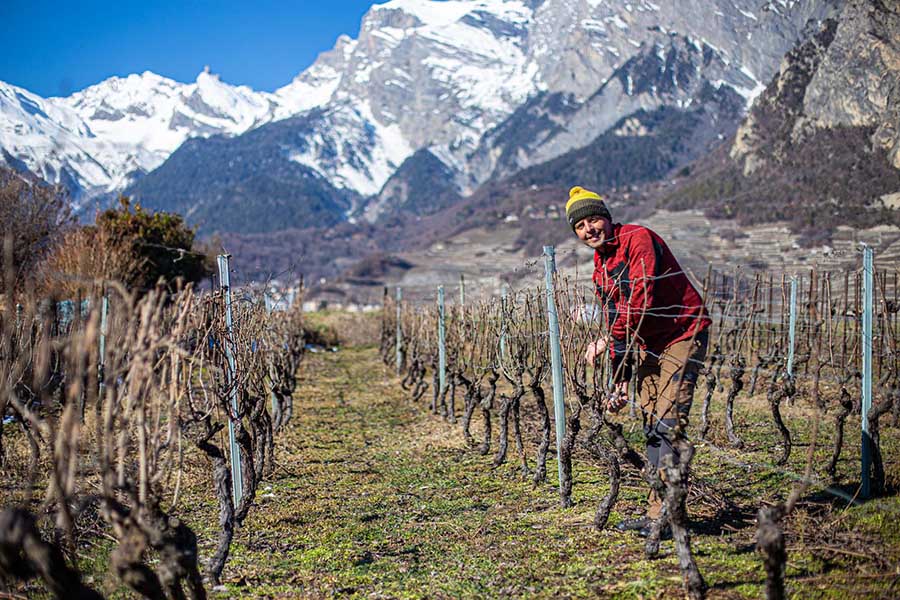 Sometimes it takes time to develop an idea... When I finished my BTS in Viticulture-Oenology in Burgundy, after a year's work in New Zealand and a few wanderings in the Mâconnais and the Hautes-Côtes de Nuit, I almost took over a domain in Haute-Savoie, on the Ayze hillside with the support of the late Dominique Belluard but the planets were not aligned, nothing happened as planned and I returned to work for the Bret brothers in Vinzelles who welcomed me for 4 years before I left for other adventures.
I arrived in Switzerland in 2018 to work alongside Marie-Thérèse Chappaz and at the beginning of 2022 a first opportunity came up with a vineyard owner who couldn't find anyone to work his 32 ares of pinot noir on the magnificent terroir of Chamoson... I thought about it, I went to see the vineyard, which was not in the best state in the world after a complicated 2021 vintage, and I decided to take care of this little patch. One of the reasons, it is not subject to chemical treatments from the neighbours, my only neighbour being a friend who is an organic winemaker!
First vintage in 2022 which turns out to be a rather easy year, I transform the pruning system which was a so-called "Valaisanne" pruning with drooping bearing to lead on wire, I try all season to bring back life in the soils weeded chemically for a few years, passage of fermented humus, compost teas as well as biodynamic preparations. Life is returning with great resilience... Instead of being Pinot Noir it is a mixture of grape varieties including Pinot Noir, Merlot, Pinot Gris, Pinot Blanc, Diolinoir... OK, it will be my first blend. The owner of the vineyard was so happy with the result, he signed a 10 year lease with me after the harvest. In the contract he wants to have a few bunches of grapes at the time of the harvest in addition to a symbolic rent ;-)
The first wine from this vineyard will be released in May 2023, accompanied by a cuvée of Pinot Gris in maceration and a Pinot Noir on limestone soil. This will be followed in November by Syrah and Humagne Rouge, a grape variety found only in Valais and the Aosta Valley under the name of Cornalin.
The first tastings will take place :
A great adventure is about to begin at the foot of the snow-capped mountains. And I would like to thank all the people who have helped me in this project !